Florida Quilt Network - Newsletter #196
www.FloridaQuiltNetwork.com
January 4, 2015
Quilting Friends,
Are you ready? We're about to enter the busiest Quilt Show season of the year! Check out the Calendar page on the FQN website to see every quilt event happening in Florida. I'm making a new year's resolution to visit a few new quilt shows this year…what about you?
To get a complete, organized, hotlinked listing of all the Florida upcoming shows, retreats, workshops, shop hops, exhibits, etc, please visit the Calendar.
Happy Quilting, Mary-Jeanine
PS: I love to hear from you, so drop me a line sometime!
-------------------------------------------------------------
CALENDAR OF EVENTS: (Newsletter number follows)
2015
Jan 8-10 Mancuso's Quilt Fest in West Palm Beach QuiltFest (#196)
Jan 13 LongArm Seminar in Ocala laura@gallsewingvac.com (#192)
Jan 14 Kathy McNeil Lecture in Tampa www.featherprincesses.org (#194)
Jan 15-16 Kathy McNeil Workshops in Tampa www.featherprincesses.org (#193)
Jan 16 Ellen Lindner Trunk Show in Melbourne Debby (#196)
Jan 17 Marlene Glickman Workshop in Punta Gorda www.SilkDyes.com (#196)
Jan 20 Pam Damour Workshop & Lecture in Mt. Dora www.Sewphisticated.net
(#196)
Jan 22-25 Modern Quilt Retreat in Leesburg www.FloridaModernQuiltRetreat.com (#192)
Jan 23-24 Quilt Show in Orlando quiltfever2015@floridacabinfever.com (#186)
Jan 23-24 Showcase of Quilts in The Villages www.qgotv.org (#194)
Jan 30-31 Quilt Show in Clearwater postmaster@quilterscrossing.net (#191)
Feb 6-7 Betty New Workshops in Lake Worth www.hibiscusquiltguild.org (#191)
Feb 7 Quilt Display in Venice www.sarasotamodernquiltguild.com (#194)
Feb 13-14 Quilt Show in Vero Beach www.sbonnets1979.org (#177)
Feb 13-14 Quilt Show in Titusville www.SpaceCoastQuilters.com (#190)
Feb 13-14 Quilt Show in Panama City sabqg.org (#196)
Feb 20-21 Quilt Show in Punta Gorda www.peaceriverquiltersguild.org (#195)
Feb 27-28 Quilt Show in Sebring kdoughty53@centurylink.net (#175)
Feb 27-28 Quilt Show in Seminole KMLEONE@SNET.NET (#184)
Feb 27-28 Quilt Retreat & Show in Niceville www.flyingneedlesquiltguild.org (#194)
Mar 6-7 Quilt Show in Mt. Dora http://www.lakequiltguild.com/ (#190)
Mar 6-7 Quilt Show in Sarasota quiltshow2015fkqg@gmail.com. (#194)
Mar 6-7 Quilt Show in Naples www.naplesquiltersguild.com (#195)
Mar 10-17 Fiber Retreat in New Smyrna Beach Beach Focusonfiberfloridastyle.com (#196)
Mar 12-14 Quilt Show in Ft. Lauderdale http://www.browardquiltexpo.com/ (#195)
Mar 13-14 Quilt Show in Tampa www.quiltersworkshop.org (#194)
Mar 14 Quilters Tea in New Smyrna Beach PelicanPiecemakersFL@yahoo.com (#191)
Mar 17-21 Fiber Workshops in New Smyrna Beach Focusonfiberfloridastyle.com (#196)
Mar 17-18 Sue Hausmann Workshops in Merritt Island www.sewcentral.net (#196)
Mar 28 Quilt Festival in Geneva www.countrycottagesewing.com (#194)
Mar 28 Festival in Bradenton mailto:christine.brown@manateeclerk.com (#191)
May 2 Pat Yamin Workshop in Lake Worth www.hibiscusquiltguild.org (#191)
May 2-3 Quilt Show in Gainesville (#192)
May 15-16 Studio to Gallery Conference in Melbourne www.StudioToGallery.com (#192)
Aug 8 Kathy Ward Workshop in Lake Worth www.hibiscusquiltguild.org (#191)
Nov 6-7 Quilt Show in Brandon www.brandonquiltguild.org (#193)
2016
Feb 12-13 Quilt Show in Palmetto Karonsquilting@hotmail.com (#193)
Mar 4-5 Quilt Show in Melbourne Event Info (#196)
-------------------------------------------------------------
World Quilt Show – Florida VI
Returns to West Palm Beach!
Thursday – Friday – Saturday ~ January 8-10, 2015
The Palm Beach County Convention Center will once again be the venue for the World Quilt Show – Florida, January 8-10, 2015. Mancuso Show Management is excited to return to West Palm Beach in Florida's High Season! Show days will be on Thursday, Friday and Saturday from 10:00 am to 6:00 pm each day.
A great three-day weekend can be spent at the World Quilt Show viewing a spectacular international collection of quilts and textile arts in the event's competition and special exhibits.There is also an opportunity to explore new techniques and quilt and sewing secrets in workshops. And, plenty of shopping in the Merchants Mall. Come be inspired!
Want to see quilts from across the globe? No need to spend days traveling by plane, train and automobile – the quilts are traveling to you! The show's highlight, quilts from all over the globe entered in the World Quilt Competition XVIII: On Tour, presents a mix of culture, diversity and creative talent. In 2015, the show will again include the Florida Quilt Competition, open only to residents of Florida. These, along with many other special exhibitions, are sure to create a spark of excitement with enough "Eye Candy" to satisfy all the quilt loving enthusiasts who will be attending the event.
-------------------------------------------------------------
SAVE 35% STOREWIDE
STORE CLOSING!!!
HUGE SALE: EVERYTHING MUST GO
Beginning Monday, January 12, 2015
Fabric, Notions, Books, Patterns, Janome sewing machines, Horn sewing furniture, store samples, store fixtures!!!
Quilts n' More!
563 Tamiami Trail, Unit #4
Port Charlotte, FL 33953
Monday – Friday 10 a.m. to 5 p.m.
Saturday 10 a.m. to 3 p.m.
-------------------------------------------------------------
Ellen Lindner Trunk Show
January 16th, Melbourne, FL
Ellen Lindner's award-winning quilts feature vivid colors and strong contrasts. Ellen loves to experiment with techniques, color combinations, and materials. She considers this playing, and her free-spirited approach is contagious.
She'll be hosted by the Sunstitchers on January 16th, as she presents her recent work, along with stories about her inspiration and process.
Melbourne, FL 9:30 AM. Contact Debby for directions.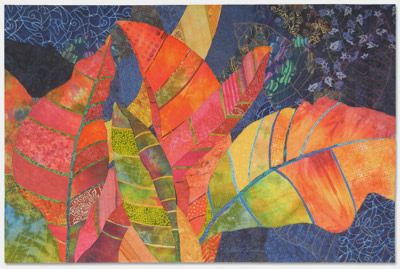 Crotons, 40 x 60
-------------------------------------------------------------
17 Jan 2015: 10-4pm. Creative Fabric Collage Workshop by Marlene Glickman at the Visual Arts Center in Punta Gorda, FL. Spend the day with your own collage kit. Pick the color you want from the colors available on my website under art supplies www.SilkDyes.com. Get those creative juices flowing with some artful questions, learn to create a landscape, 3D floral images, using sheers to create fog and shadows, fun with fusibles and a little dyeing with instant setting dyes on assorted silks including silk broadcloth which feels and sews like cotton. Sewing machines optional. Come have fun and learn to design your own 5 inch square art quilts. To make your reservation call the Center for details 941-639-8810.
-------------------------------------------------------------
St. Andrew Bay Quilters' Guild in Panama City, FL is busy with preparations for their annual Quilt Show to be held on February 13 and 14, 2015. Our event features quilts only made by our Guild members. We have so many talented people. It's fun to see what they have been working on throughout the year.
Usually we exhibit approximately 100 quilts. This is a judged competition with ribbon awards. (Beautiful ribbons which we make ourselves.)
We also feature our beautiful opportunity quilt, Silent Auction and Boutique. In addition we have approximately 12 vendors. We have a roomful of nothing but quilt stuff. So come visit us.
Our show is held at Our Lady of the Rosary Catholic Church, 5622 Julie Dr, Panama City, Fl. It is located on the corner of Julie Dr and Hwy 231, just four miles north of the Mall. Admission: $7.00.
Come see us. We look forward to giving you a happy experience. Any other information can be obtained through our website http://www.sabqg.org/. See you at the show.
-------------------------------------------------------------
LECTURE & DEMO IN MT. DORA
Pam Damour is coming to Sew-Mini Things
www.Sewphisticated.net
Jan 20, 2015 9:30am

Pam Damour – "The Decorating Diva" – Stitch, Tangle and Bling (workshop)

Join Pam for inspiration while she shows you the easy step-by-step break down on how to create Zentangle® patterns. You'll make several patterns, while learning the principles of Zentangle. Your kit will include supplies to make 6 Zentangle tiles and four fabric blocks that can be sewn into a pillow, table runner or wall hanging. Then be inspired by Pam's trunk show as she shows you how you can enhance your home dec, quilting, garment and embroidery projects. (kit included, 3 hours)
Jan 20, 2015 1:30pm
Pam Damour – "The Decorating Diva" – "Got Quilt?"
Pam Damour is an interior designer by profession and a quilter by passion. She's spent too much money and too much time starting quilt projects and then decided she didn't like them enough to make the commitment to finish them. So she'd put them in a bin, store them away thinking perhaps "someday" she'd finish them . . .well FAT CHANCE! Learn how Pam found creative ways to finish her quilts, and taught her old quilts some new tricks. In this lecture/demo you'll see and learn valuable finishing techniques for you quilts and other UFOs!
-------------------------------------------------------------
FIBER RETREAT IN NEW SMYRNA BEACH
Change in dates!
FocusonFiberFloridaStyle.com
Atlantic Center for the Arts, New Smyrna Beach

Retreat
March 10-17
Workshops
March 17-21
Workshops by Esterita Austin, Pat Pauly and Sherrill Scheoning
www.FocusOnFiberFloridaStyle.com
-------------------------------------------------------------
At the SHOP: Trisha Bowman will be giving classes on memory quilts in Jan and Feb. T-shirt quilts will be the focus on January 31 and on Feb 28 she will be presenting two half day classes on using ties in quilts and photos in quilts More information can be obtained by calling Sew Central: 321-338-2959.
At the Conf. Center: Sue Hausmann, host of the show American Sews, will be coming to present a Sulky event called Zen II on March 17 and 18. It will be for people that have embroidery machines and all are encouraged to bring their own machine so they can see how all these products work on their machines. Interested people can call Sew Central at 321-338-2959 for more information. Seats are limited so reservations should be made soon!
My shop is located at 353 E Merritt Island Cswy in Merritt Island, FL. The event will take place at the Space Coast Conference Center located at the Holiday Inn Cocoa just by the I95 at the Rt 520 exit.
Thanks,
Ellen Patton
Owner, Sew Central
www.sewcentral.net
-------------------------------------------------------------
March 4-5 2016
'Quilting a Memory"
Sponsored by Seaside Piecemakers Quilt Club
https://www.facebook.com/quiltshow2016
-------------------------------------------------------------