Florida Quilt Network - Newsletter #220
www.FloridaQuiltNetwork.com
February 6, 2017
Quilting Friends,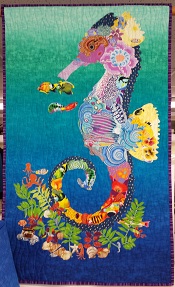 [click to enlarge] I made another Fiberworks Collage because, well, I just couldn't stop at one. I'll be teaching this a few more times at The Sewing Studio in Maitland, if you're so inclined. If you see a different collage design from this page and want to come to class and make IT instead of the seahorse, that's fine too.

Well here we are, smack dab in the middle of a wonderful Quilt Show season, here in Florida. I'm getting to as many shows as I can, as well as taking advantage of workshops with teachers visiting from the Great White North. Maybe I'll see you at the Mt. Dora show on the 24th, or maybe in a class at the AQS show in Daytona on the following weekend? Take advantage of these opportunities! Sunday morning I visited Mt. Dora's Art Festival…wow! So many new creative techniques out there I'd never seen. I understand that show is one of the top five in the nation, so if you're anywhere near Mt. Dora next year (first weekend of February), I highly recommend the show.

For those of you looking for a great local organization to receive your beautiful Charity Quilts: Michele with Project Linus Orlando/Central Florida chapter always welcomes quilts, crocheted or knit blankets, and single-layer finished (bound or fringed) fleece in sizes from 36" square up to twin size. The Sewing Studio is one of the drop sites (the full list is on the HQ website under chapters). There are also two social/sit-and-sew sessions each month for blanketeers in the area. Michele's FB page is at www.facebook.com/groups/plinuscfl/

If you're a fairly new reader of this newsletter, you may not know that the Calendar page on the website is a quick way to view upcoming events all over the state. Give it a look-see.
Happy Quilting, Mary-Jeanine
PS: I love to hear from you, so drop me a line sometime!
---------------------------------------------------------------------------------------



This is a well established Quilt Show Business for sale with sales of about $50K per year working just part time. Work as little or as much as you like, travel or stay in Florida – the possibilities are endless and entirely up to you. This is a fun business for someone who loves quilting and would like to make some extra money. Perfect for a husband and wife team or a couple of friends. Sale includes all inventory, equipment, proprietary rights to published patterns, a business plan formula that works, future hard to get show bookings and unlimited support to help you succeed. Price is $25K. Serious inquiries only please.
quiltbusinessforsale@gmail.com
---------------------------------------------------------------------------------------



Purchased but never really used. This sewing and embroidery machine has some awesome features, please see more here: babylock.com/sewing/ellisimo-gold

I am asking $3950.00.
Please contact Dee at 407-349-1236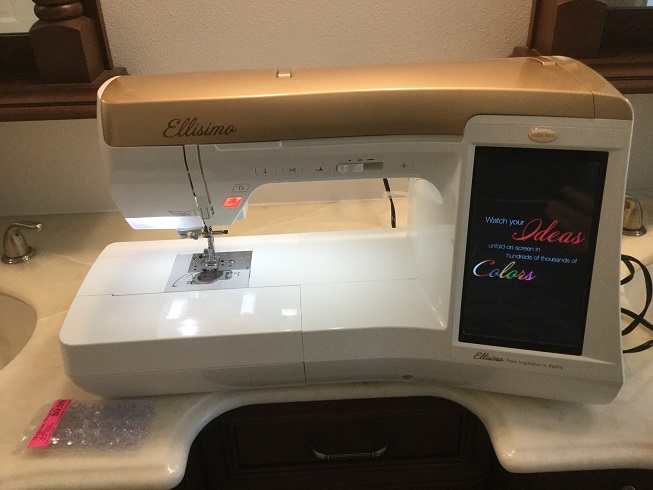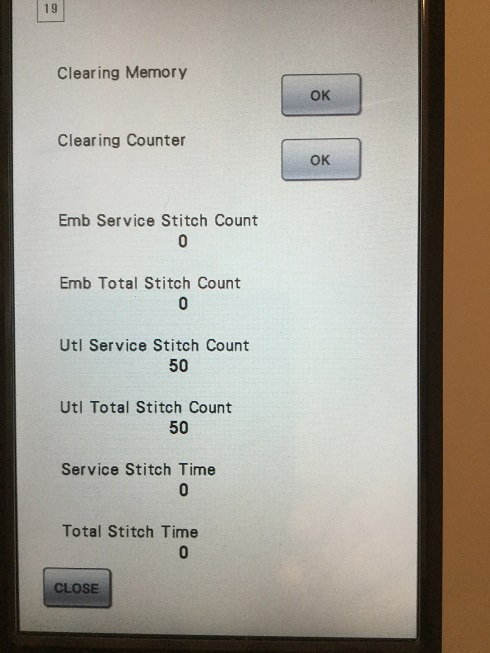 ---------------------------------------------------------------------------------------
CALENDAR OF EVENTS: (Newsletter number follows)
2017
Now-Feb 27 Quilt Exhibit in Stuart (#220)
Now-28 Art Quilt Exhibit in Key Largo www.miamiartquilters.com (#215)
Now-Feb 28 Quilt Exhibit in Mt. Dora www.MountdoraCenterfortheArts.org/shared-threads (#220)
Now-Feb 28 Shop Hop in Tampa Bay www.bayareashophop.com (#220)
Feb 10-11 Quilt Show in Vero Beach patlester9@gmail.com (#211)
Feb 10-11 Quilt Show in Panama City www.sabqg.org (#215)
Feb 11 Lecture in Fort Myers jrande2@comcast.net (#219)
Feb 15 LongArm Experience in Lake City more info (#219)
Feb 16 LongArm Experience in Brooksville more info (#219)

Feb 16-17 Workshop In West Pasco pkingjr3@verizon.net (#219)
Feb 17-18 Quilt Show in Seminole www.midpinellasquiltshow.com (#211)
Feb 17-18 Quilt Show in Punta Gorda 2017QuiltShowPublicity@gmail.com (#211)
Feb 24-25 Quilt Show in Naples info here
Feb 24-25 Quilt Show in Mt. Dora lakequiltguild.com/quilt-show (#212)
Feb 24-25 Applique Quilt Show in Tampa www.featherprincesses.org (#220)
Feb 25 Art Quilt Workshop in Tampa www.creatinggayle.com (#217)
Mar 1-4 AQS Quilt Show in Daytona Beach info here
Mar 3-4 Quilt Show in Sarasota www.friendshipknotquiltersguild.com/quilt_show.html (#213)
Mar 9-11 Quilt Expo in Ft. Lauderdale www.browardquiltexpo.com (#218)
Mar 11 Purse Workshop in Lake Worth www.hibiscusquiltguild.org (#213)
Mar 11 Quilt Tea in New Smyrna Beach lizart999@aol.com (#214)
Mar 16-19 Original Sewing & Quilt Expo in Lakeland http://sewingexpo.com/LakelandFL.aspx (#215)
Mar 16-17 Workshop In West Pasco pkingjr3@verizon.net (#219)
Mar 18 Outdoor Quilt Show in Trenton www.suwanneeshops.com
(#218)
Mar 18-19 Quilt Show in Estero momc318@gmail.com (#218)
Mar 24&25 Quilt Show in Tampa www.quiltersworkshoptampa.org
(#214)
Mar 25 Quilt Show in Geneva Countrycottagesewing.com (#220)

Mar 27-Apr 8 Focus on Fiber Retreat in New Smyrna Beach focusonfiberfloridastyle.com (#216)
Apr 1-3 Debra Gable Workshop & Lecture in Orlando floridacabinfever.com (#217)
April 7-8 Florida Quilt Study Group in Trenton kmetelicacray@gmail.com (#215)
Apr 14-15 Quilt Show in Palatka stjmongoose@gmail.com (#216)
Apr 24-30 Bus Trip to Paducah purcella23@aol.com (#210)
May 6-7 Quilt Show in Gainesville treecityquiltersguild.blogspot.com (#217)

May 13 Quilt Workshop in Lake Worth www.hibiscusquiltguild.org (#213)
June 5 Janice Vaine Lecture in Orlando floridacabinfever.com (#217)
Aug 12 Quilt Workshop in Lake Worth www.hibiscusquiltguild.org (#213)
Oct 21 Quilt Auction in Maitland floridacabinfever.com (#219)
Nov 11 Tablerunner Workshop in Lake Worth www.hibiscusquiltguild.org (#213)
2018
Feb 2-3 Quilt Show in Palmetto carollipp@gmail.com (#219)
---------------------------------------------------------------------------------------
QUILT EXHIBIT IN STUART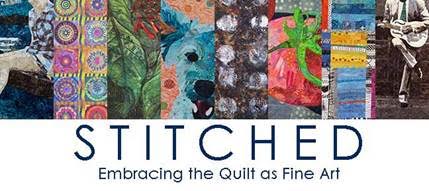 Many people think an art quilt must be some kind of very special bedspread. The exhibit, Stitched: Embracing the Quilt as Fine Art, will quickly debunk that idea. This juried exhibit features 45 quilts made by Florida members of SAQA (Studio Art Quilt Associates). They include a wide variety of materials, techniques, subjects, and styles.
Stitched: Embracing the Quilt as Fine Art, will be on display from January 20th – February 27th, 2017 at the Court House Cultural Center in Stuart, FL. Several supporting events are planned:
January 21-22 – Artist Demonstrations
January 27, Artists' Reception 5:30 – 7 PM
February 11-12, Artist Docents
Gallery information and hours: 80 E Ocean Blvd., Stuart, FL
Tuesday through Friday, 10 – 4, Saturday, 11 - 2
---------------------------------------------------------------------------------------

QUILT EXHIBIT IN MT. DORA
Mount Dora Center For the Arts. January 13-February 28.
Steeped in historical tradition and using contemporary concepts, this exhibit sheds light on a very diverse form of art.
In conjunction with the Share Threads Exhibition, is a Felted Vessles Workshop on January 21, 2017 by Artist and Instructor, Liz Canali.
mountdoracenterforthearts.org/shared-threads
---------------------------------------------------------------------------------------
QUILTS OF VALOR
Registration is now open for National Sew Day at www.QOVF.org
With Respect, Honor and Graditude
Together we have said thank you to our Veterans with over 150 Quilts of Valor presentations in 2016
To State Coordinators, Group Leaders and QoV Quilt Shops:
To build excitement consider sending an email to all your quilting friends, guilds, and quilt shops inviting them to participate in National Sew Day 2017. Invite local veteran's organizations to come and see what it's all about. Here's a sample of what you might say –
The Quilts of Valor Foundation has chosen February 4, 2017, as National QOV Sew Day. Quilters all around America will be asked to gather together and sew for our active service members and veterans touched by war. It's not too early to start thinking of blocks you may want to make, patterns you will want to use and friends that will come together to make more quilts in one day than ever before – February 4, 2017 - National QOV Sew Day. Event Registration is open now at www.QOVF.org.
With your registration you will be eligible for prizes ranging from fat quarters, quilts books, tools and accessories to the grand prize. This years grand prize will include free admission to the QOVF Annual Conference in Colorado Springs, an exclusive gift bag, special events and more.
Follow the easy to use form to complete all your registration information. The information will be stored on the QOVF website and WILL NOT be shared with any businesses, companies, etc. outside the foundation – guaranteed.
If you are a QOVF member - please sign-in first and then choose "Current Events" from the dropdown "What would you like to do?"
Non-members can also participate. Invite your friends to join you by registering at our home page, www.QOVF.org. Scroll down to EVENTS, and follow the screen prompts.
Who can register:
1.If you sew as an individual, register yourself
2.If you sew with a group, register the group name, PLUS the names of everyone individually within the group
3.If you are a Quilt Shop, register your shop, PLUS the names of all the quilters that will be at your shop on National QOV Sew Day.
PRIZES ALL DAY
Each registration entity will be assigned a number and throughout the day, numbers will be randomly selected and that person, group or shop will be called with news of their winning prize from one of our generous Marketing Partners.
We hope YOU will take pictures and post them too.......... https://www.facebook.com/groups/QuiltsofValor/?ref=br_tf
Please share also any plans you already have for National Sew Day, favorite patterns, fun activities, favorite foods – we would like to hear about it all.
We want this day to be fun for everyone, but productive too, so when your QUILT TOP is finished, register each top by sending an email to nationalsewday@QOVF.org. Information to include:
1.Your Name, Address, City, State & Zip
2.Who are you sewing with today? Self, Group, Shop?
3.Name of the Quilt or Quilts
We want to track how many potential quilts were made on February 4, 2017 so please do register.
If you have any questions, please send them to nationalsewday@qovf.org.
Happy Sewing!
---------------------------------------------------------------------------------------
SHOP HOP IN TAMPA BAY AREA
Sweet Darling Quilts:
Bay Area Shop Hop-Shop For The Stars. Lots of prizes. Feb 1-28. Store hours are 10-5. Go to www.bayareashophop.com to download your passport.
Semi-Annual Sale March 18 30% off storewide (excludes classes, consignments & clearance)
26240 Wesley Chapel Blvd
Lutz, FL 33559-7206
---------------------------------------------------------------------------------------
WORKSHOPS IN TRENTON

Wednesday, February 8, 2017 All-day Session with Lyn*: 10:00 a.m. – 3:00 p.m. Fee: $25.00
Saturday, February 11, 2017 Sassy Kat Baskets with Katie Avram 10:00 a.m.—3:00 p.m.
The Aunt Pitty Pat Market Basket. Generously sized for shopping, collecting or storing. This basket features a sturdy handle and feminine shape to the rim. Just the perfect southern basket!
Fee: $50.00 Includes all materials and use of tools
Wednesday, February 15, 2017 All-day Session with Lyn* 10:00 a.m. – 3:00 p.m. Fee: $25.00
Saturday, February 18, 2017 The Musical Tea 2:00 p.m.
Featuring love songs performed by Jan Littrup. Fee: $20.50
Wednesday, February 22, 2017 All-day Session with Lyn* 10:00 a.m. – 3:00 p.m. Fee: $25.00
¨ Lyn White's Wednesday Classes are open instruction. You may choose a featured pattern, such as Stephanie's Pineapple or French Braid, or conceive your own design and work with Lyn to complete your quilt. All levels of assistance and guidance are provided by Lyn from beginner to advanced.
Friday February 24, 2017 Fabric Collage with Joyce Marie 10:00 a.m.—3:00 p.m.
Learn to create stunning works of art with fabric from artist Joyce Marie. Several nature-themed kits to choose from including the Great Blue Heron Cardinal and Barn Owl.
Fee: $25.00 Kits available for $35.00
Mark your calendars for the 10th Annual Trenton's Suwannee Valley Quilt Festival. Saturday, March 18, 2017. Vendor and quilt exhibitors forms available at : http://trentonquiltfestival.com/
The Shoppes are open Monday through Saturday 10:00 a.m. to 4:00 p.m..
The Café is open Monday through Saturday 10:00 a.m. to 3:00 p.m..
The Florida Quilt Museum is open Monday through Saturday 11:00 a.m. to 3:00 p.m.
The Florida Quilt Trail is always open and Trenton's Suwannee Valley Quilt Festival is held the third Saturday in March of each year.
---------------------------------------------------------------------------------------
Sarasota Chapter Fabric & Notions Sale
Fabric and Notions sale held at:
Place: St. Andrews Presbyterian Church,
Address: 1239 Del Webb Blvd W,
Sun City Center, FL 33573
Dates: February 24th and 25th, 2017
All are invited. We have some very fine fabrics and notions this year. You will love the Ethnic Textiles of Ann Rashid.
ASG Members no fee for tables if you wish to participate.
Non-ASG members - The table rental fee is $50.00 for the two days.
If you are interested, please call Paulette Braga 941-807-0915
---------------------------------------------------------------------------------------
QUILT SHOW IN TAMPA
Applique in Tampa Bay IV - Spring Fling
Sponsored by The Feather Princesses
St. Lawrence Catholic Church - Higgins Hall
5221 N. Himes Avenue
Tampa, Florida 33614
Friday, February 24, 2017, 10 a.m. - 5 p.m.
Saturday, February 25, 2017, 10 a.m. - 4 p.m.
Admission - $8
Free Parking
The appliqued quilts in our show will be judged by Certified Quilt Judge, Lorraine Covington. For your entertainment, we will also have:
* A Special Exhibits of lovely pictorial appliqued quilts, including "Memories of Tampa Bay" and "Spring Fling" Quilts
* Beautiful Opportunity Quilt, "Spring Bouquet" designed by renowned quilt designer Edyta Sitar, and made by our talented Feather Princesses members
* Certified Quilt Appraiser, Brenda Grampsas, who will do verbal and written quilt appraisals for the public for a fee
* Our Miniature Applique Quilt Auction on both Friday and Saturday at 1 p.m., with the proceeds benefitting Metropolitan Ministries here in Tampa
* Spectacular Merchant Mall with 17 vendors from all over the United States and Canada, including the ever popular Mark Sherman of Murfreesboro,Tennessee,
Primitive Gatherings of Menasha, Wisconsin, and WonderFil Threads of Canada
* Large Quilters Boutique of Hand Crafted Items, chock full of gifts for everyone on your list
* Gift Baskets overflowing with nifty items every quilter dreams of
* Cafe - Serving lunch Friday and Saturday
For more information, contact Laura Brooker at laurajbr@mac.com and see our website at www.featherprincesses.org.
We hope you'll come, spend some time with us, and see our magnificent display of appliqued quilts. Thanks so much and we'll see you at the show.
---------------------------------------------------------------------------------------
QUILT SHOW IN GENEVA – CALL FOR ENTRIES
We are having the Geneva quilt festival on March 25, 2017 this year. We are looking for people to enter quilts for a $5.00 donation. To donate miniature quilts for silent auction. As well as arts and crafts vendors or business to set up a booth/tent $25 for the day. The Rural Heritage Center is a 501(c)(3) organization. Those interested can get additional information on my web site. Countrycottagesewing.com or the ruralheritagecenter.net
Thank you,
Sherry Goode
407-929-3555
---------------------------------------------------------------------------------------
ALEX ANDERSON AT THE VILLAGES
RENOWNED QUILTER ALEX ANDERSON COMES TO THE VILLAGES IN MARCH
Quilting Guild of the Villages announces that on March 28, 2017, Alex Anderson will present three lectures at New Covenant United Methodist Church, 3470 Woodridge Dr., The Villages, Fl.
Lecture topics are: Beautifully Quilted, Scrap Quilting-Stash Attack and Studio Solutions. Tickets are $20.00 and will be available at the Villages Box Office on February 9th.
Alex Anderson's love of quilting all began in 1978 when she completed her Grandmother's Flower Garden Quilt. Her personal mission is not only to share her love of quilting with anyone who will listen, but to educate and encourage those interested in quilting, so quilting can continue to be handed down from generation to generation.
Alex is the author of 30 books which have been printed in four languages. She was chosen as the 2008 Silver Star Award winner given annually by the International Quilt Festival to a person "whose work and influence has made — and continues to make — a sizable and positive impact on the quilting industry and community."
From 1993 to 2015 she appeared on the HGTV program Simply Quilts. Alex is now seen on The Quilt Show.com, the world's first full-service interactive online video/web TV program created just for quilters that she co-founded with Ricky Tims. For more information about Anderson, visit her website at AlexAnderson.com.
The Quilting Guild of the Villages is a 501(c) (4) nonprofit organization established in 1993. Membership is open to all residents of The Villages Fl.
---------------------------------------------------------------------------------------
Be on the Lookout for Ellen Lindner's Quilts
Ellen Lindner says she's experiencing her "15 minutes of fame," and her quilts are everywhere! Her piece, "Reconciliation," is featured on the current cover of Storytelling magazine.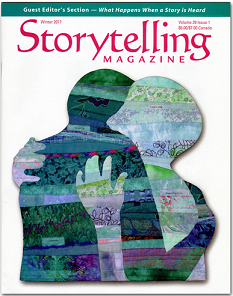 In addition, Ellen has a how-to article published in the current issue of Quilting Arts magazine. It provides an explanation of her very accurate raw-edge technique, called "Double Reverse Applique™."
AND - most exciting for Ellen - she has taped three segments for the 1900 series of Quilting Arts TV, which will be airing very soon. Be on the lookout for Ellen! In the meantime, you can check out her website, www.AdventureQuilter.com .
---------------------------------------------------------------------------------------
QUILT MUSEUM EXHIBIT
The Florida Quilt Museum is excited to announce a new exhibit Second Story Quilts, by Teddy Pruett.
"This is an outstanding collection of art quilts that are not only beautiful from afar with their excellent composition and colorations, but the fabrics and embellishments that Teddy has used draw you in and tell a story that will make you laugh or cry", stated Stephanie Metts, Founder of The Florida Quilt Museum. "We are so proud to share her wonderful work with our visitors."
Teddy's quilts are made from recycled quilts, salvaged fabrics and vintage needle works "I cannot bear to see someone's hard work thrown away," Teddy says, "I use bits and pieces of anything made by hand – embroidery, crochet, aprons, clothing and quilts."
Teddy began quilting in 1974. Before that she was a writer fascinated with transferring emotions and ideas through the written word. Her quilts function much the same way by establishing a connection between two individuals and creating a common bond of memories drawn from a shared experience. Often these are feelings associated with the past. While Teddy says of her work, "People don't look at my quilts and say, 'Oh, I have that fabric'," the fact is, they do! And if not the fabric, than a button or knob or toy that has been woven into Teddy's rich tapestry. It is that commonality that is the magic that creates the connection between artist and viewer. Teddy's rich use of embellishments and impeccable stitchery provide something for everyone to see, admire and relate to.
One quilt in the collection is "Memory Jars" which harkens back to an old Southern black tradition of covering old bottles or jars in clay or putty, and then impressing various objects into them. Some may have been used as grave markers that included items from the deceased. In "Memory Jars" Teddy uses a background of vintage log cabin blocks with each jar decorated with a large collection of ephemera.
"Second Story Quilts by Teddy Pruett" will adorn The Florida Quilt Museum through April of 2017.
The Florida Quilt Museum is dedicated to preserving and displaying Florida's quilting heritage to ensure Florida's quilting future. It is located in downtown Trenton, Florida on Main Street (US 129) in the Historic Wade Building. The Museum is open Monday through Saturday, from 11:00 a.m. until 3:00 p.m. Both the Museum and nearby parking are free. For additional information call (352) 316-3656 or visit our Facebook page Florida Quilt Museum.
---------------------------------------------------------------------------------------
NEWS FROM BONNIE ASKOWITZ
1. My quilt "Gloria" got into a juried exhibition about women of distinction since 1920 when we got the vote. The exhibition is called "HerStory." This exhibition will travel to many venues not yet announced.
2. My quilt "Hand of Peace" is in a juried art show in New Hampshire. The name of that show is "At Large."
3. The Miami Art Quilters will be showing "In a Florida Backyard" in the community room at the Key Largo library the month of February.
4. Call for Entries: a new show that addresses civil rights in any and all ways. The curator is calling it "Our Story" and it will be juried and will travel.
https://www.flymetothemoon.gallery/ourstory/