Classes
Mary-Jeanine has been presenting her guild programs and workshops for Florida quilt guilds since 2012. She has enjoyed teaching quilting for over 20 years, and has many students who take whatever class she is teaching next! Below are listed some of her most popular classes. However, if you see something in her gallery that you'd like her to teach, please ask.
-----------------------------------------------------------------
Monthly Free 'Tips, Tools & Techniques Club'
Mary-Jeanine hosts a free Club each month at The Sewing Studio in Maitland. Come by on the 4th Saturday of each month. We have the same club meeting in the morning (10-noon) and in the afternoon (1-3pm). You choose the time that works for you! Mary-Jeanine brings her 30-plus years of experience in sewing, quilting, embroidery and serging to this Club with lots of projects and ideas to help you in your journey.
In addition, we have Show-n-Tell, refreshments, door prizes and a 15% shopping discount for the day.
-----------------------------------------------------------------
StashBuster Lecture/Demo (1, 1.5 or 2 hours): Mary-Jeanine has been making 2 Stashbuster quilts and 1 quick project each month for a lecture series at The Sewing Studio. These quilts enjoy going for a ride and getting shown off to all kinds of groups: guilds, shops, shows, etc. Mary-Jeanine demonstrates how each one is made, shares her written instructions for some, and sells patterns for the rest. This has been a very popular series of lectures. Each time she comes to your organization, she will bring all-new quilts and quick projects to inspire you to delve into your stash!
Quilt Classes
(click to enlarge)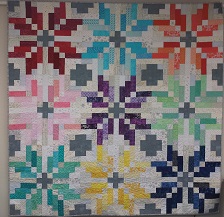 Brand New Class!"Norway Quilt" (3-5 hours): A great quilt for beginners, you can make it scrappy like mine or just a few colors. Learn efficient and successful ways to cut, press, sew. I've got TONS of tips and techniques to help you along the way. (Requires purchase of the pattern from Thimble Blossoms.)
(click to enlarge)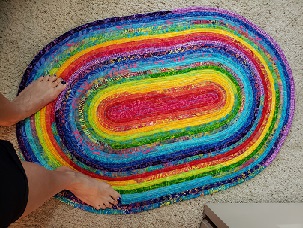 Brand New Class!"Jelly Roll Rug" (3 hours): An enjoyable 3 hours, learning how to turn strips and batting into a useful piece of art! Each student will make a small version of this rug (mug rug? trivet?) to learn all the steps to making this fun project. (Requires purchase of the pattern from RJ Designs)
(click to enlarge)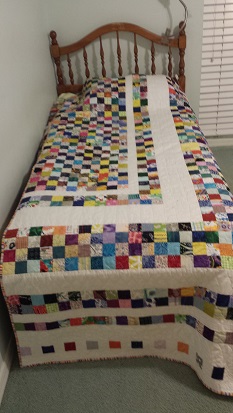 "16-patch Choice" (3 hours): Each student can choose to make one of these five different quilts, all based on the simple 16-patch block. Each student will get instructions (written and verbal with demos) for all four quilts, but will concentrate on one of quilts during the class.
(click to enlarge)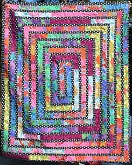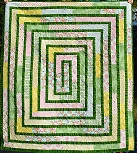 "A Maze Zing Quilt" (3 hours): Great for busting that stash of jelly rolls, the student will learn a great way to sew long strips together with NO pins, and NO curves to press out. Its almost magic, it works so well!
(click to enlarge)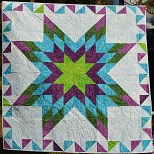 "Radiant HST Star" (3 hours): Usually these Radiant Star quilts are made with diamond patches.  However, my redesign with triangles means it's a much easier quilt to make.  Promise!
(click to enlarge)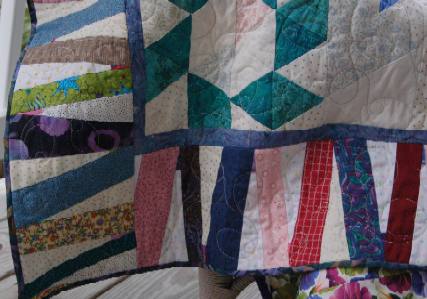 Machine Quilting (6 hours): After 17 years of teaching this class, Mary-Jeanine has compiled the most complete collection of information, tips, techniques and samples for this very thorough class. Includes discussion of batting choices, thread choices, needle choices, 3 ways to baste a quilt, how to mark a quilt, how to come up with a quilting design, tools you can't live without (and which ones can be found at the hardware store), resources for inspiration, troubleshooting and much more. You will leave with a full brain and an enthusiasm to practice, practice, practice!
(click to enlarge)


Faux Log Cabin Spiral & Faux Log Cabin Barn (3 or 6 hours): Because of the high contrast of lights and darks, this block looks like a log cabin, but it is much quicker and easier to make.  Be sure to have lights and darks, no mediums.  This block is easier with fat quarters or yardage, even though it look like scrappy strips.  A very popular class with a handout.
(click to enlarge)

Kissy Kissy (3 hours): this quilt utilizes two different blocks: a 16-patch and an 'X' block. Mary-Jeanine has some original techniques to create these classic building blocks. This can be done very scrappy, or with 5 or 6 coordinating fabrics, as you see in this example. Mary-Jeanine's self-published pattern comes free for each student.
(click to enlarge)

Strip Twist (3 hours): using your collection of coordinating (or not!) 2.5" strips, these blocks go together fairly quickly as long as you follow a few important steps. You will also learn a handytechnique for sewing and pressing long strips. This design comes to us from Bonnie Hunter as a free pattern.
(click to enlarge)

Color Slabs (3-6 hours): from the very popular Sunday Morning Quilts book, this fun class gives us the opportunity to really dive into our scraps to make a beautiful quilt. In this class you will learn about color and values; the sewing is easy. Bring your scraps or purchase a few fat quarters. We can do some scrap trading in class to get lots of interesting value changes. You will make a few 'slabs' of color (12" or 15"blocks) in the class, and Mary-Jeanine will give you some tips on efficient sewing and color arranging for the blocks and for the quilt.
(click to enlarge)

Rose (3 hours): this is an orignal design that can be used to decorate a tote bag, pillow, or create many rose blocks for a quilt. We will actually spend the 3 hours on making the rose block, but if you want to go 6 hours, Mary-Jeanine can teach the Easy Tote, described below.
(click to enlarge)

MJ's Easy Tote (3 hours): You don't need to buy a new pattern everytime you want to make a tote bag. Mary-Jeanine will guide you through the basic building blocks of any tote: handles, pockets, lining, boxing the bottom corners, closures and finishing. She brings lot of examples of various styles and options. What a great gift idea! No pattern needed, but Mary-Jeanine has a free outline/handout for each student.
(click to enlarge)


Happy Stars (5-6 hours) - uses Mary-Jeanine's self-published pattern. She gives lots of options for creativity with this pattern and class. Choose your outline (flat piping or pieced), number of colors in each block (either 2 or 6). This is a great pattern for those coordinating 6-packs of fat quarters we all buy and then don't know how to use. Pattern is an extra $7.
(click to enlarge)

Perky Pinwheels (3 or 6 hours) - uses prairie points to create 3-D pinwheels. Also a self-published pattern by Mary-Jeanine, the 3-D pinwheels is a technique you can use in lots of other quilts to add texture and interest. Pattern is an extra $7.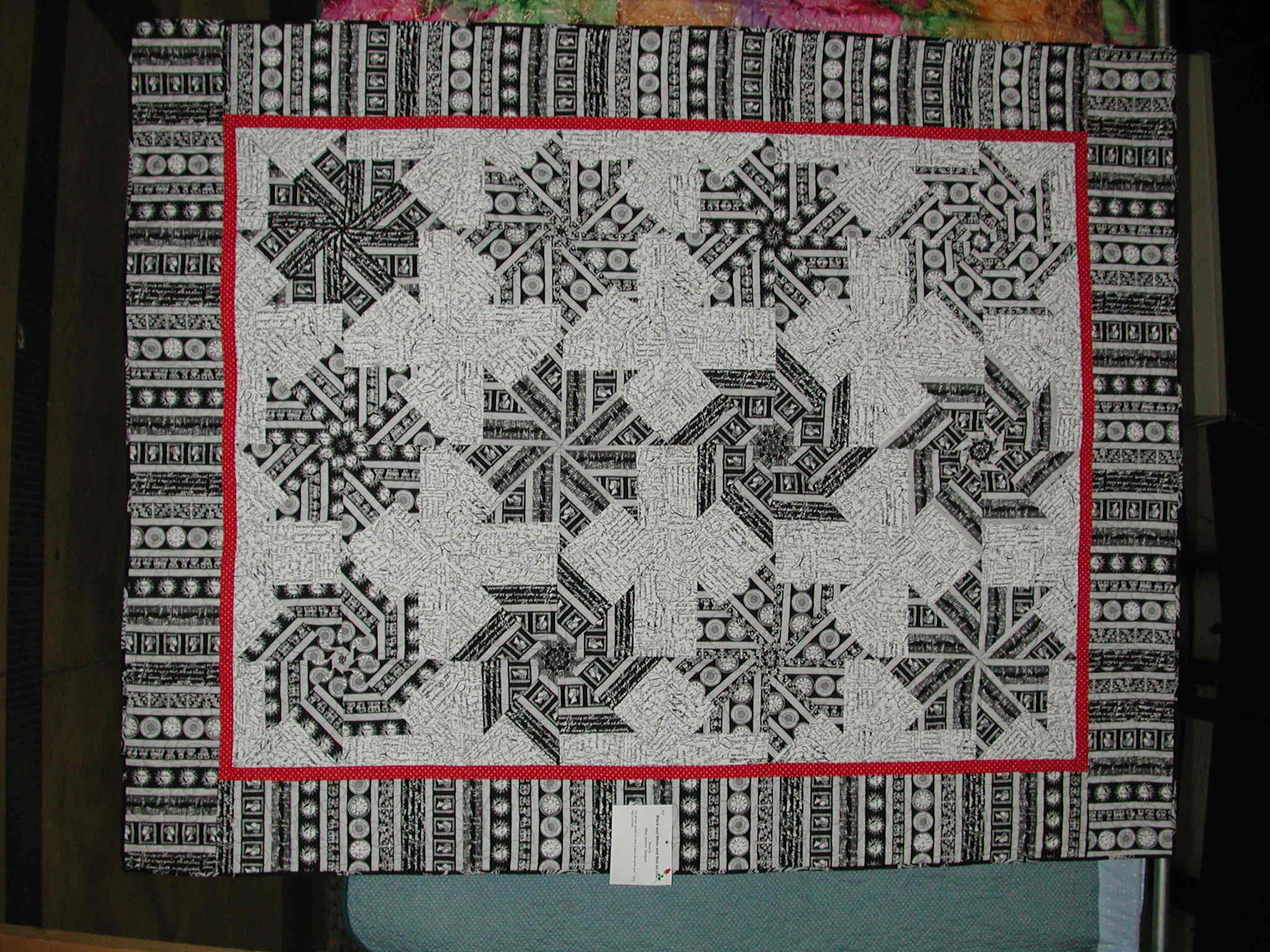 Stack 'n Whack (6 hours): Mary-Jeanine is the Stack 'n Whack Queen (going on 14 quilts so far!) and will share all the tricks you will need to create your own masterpiece. This is a classic pattern, and the joy of seeing the blocks come together never gets old.
------------------------------------
Teaching Fees: Contact Mary-Jeanine to discuss classes for your guild. If your venue is more than one hour from Mary-Jeanine's home in Maitland, she prefers to spend the night. This can be a hotel stay or a home stay (no cats please). $.50 cents per mile is also charged.
-------------------------------------
And finally, a few nice comments from my students to share with you ...
Loved your class. So happy Alice and Ginger invited me, and might I say after seeing and hearing everything you do
You are amazing.
Thank you again, Happy Thanksgiving and see you that Saturday. ~Connie
-------------------------------------
Hi Mary-Jeanine, Just wanted to let you know that I really enjoyed
your program at our guild meeting
It was one of the best programs we have had.
You actually explained "how" to do something. And the hand out was great! :).
Thanks again! Nan
-------------------------------------
Thank you so much for the excellent class
you recently taught  at The Sewing Studio.
I learned so much valuable information,
not only about the course's title subject, machine quilting,
but also about so many important aspects of quilting in general.
You are a delight.
-------------------------------------
If you teach something other than what I have taken from you, please let me know. I'd love to join you! I think you're a knowledgeable & keen teacher.
-------------------------------------
I just want to say you are a delight to work with.
I appreciate all your attention to detail and prompt response.
Just a little praise for this Wednesday morning!
-------------------------------------
Not only did I enjoy & learn new tricks in your class, you have made a believer out of me… I am soooo glad I had the opportunity to play hooky from work and join you! Thank you ever so much!!!
-------------------------------------
Thank you once again for an awesome class. I am thrilled and excited about continuing my new endeavor in free motion quilting. You have no idea how I feared it. THANKS!!! And thanks to Ms. Judy for recommending you to me.
-------------------------------------
I really enjoyed the Stack & Whack class and your patience and helpfulness with us all.
I look forward to doing another class with you and hope you have a great trip out west this summer.
-------------------------------------
I did enjoy the class today very much...you are a great teacher & make it all seem like fun too!
-------------------------------------
Enjoyed your program, as I did the first one. You are informative, entertaining, and a hoot to watch. Thank you for coming to our guild. Hope you do it again in the future. ES, St. Pete