Gallery
Here are some of the quilts that I have made. Click on the picture to see a larger version. Almost all are machine quilted by me. Only one is hand quilted (the flag). Newest at the Bottom.
*** click on any picture to enlarge ***
Rev. 3/29/18

This king sized double wedding ring was a 15th year wedding anniversary gift to my husband. I designed it with EQ5 and each block is different from the next, so it spent lots of time on the design wall.

This large-twin-sized I-Spy quilt is lots of fun to play with the kids on the family room floor.

This quilt was made for my parents on their 50th wedding anniversary. There are three dimensional trumpet flowers scattered throughout. This was a big design challenge for me.

Lap sized Christmas pinwheel with a braided border. If you look really closely, you'll see that there is only one block, but the color positions create the variations.

My daughter is holding "Ragged Hearts".


This set of Stack-n-Whack quilts was made for my twin niece and nephew.


"Happy Stars" was a result of my first
published
quilt. pattern.
To order a copy, click here

"Perky Pinwheels" uses prairie points to create 3-D pinwheels. This is my second published pattern. To order a copy, click here.

A set of paper pieced flowers; design by Eileen Sullivan.

My original design using the traditional apple core template for this wall-hanging. Hand quilted stars with the "big stitch".

A queen sized half-square log cabin. A lesson I learned on this one is that long cross-hatched lines of quilting don't work well for a bed quilt. The pulling and yanking that happens to a bed quilt tends to put too much stress on those poor quilting threads and they break.

A queen sized wedding gift to Stefan's sister and her betrothed. This Stack & Whack quilt was in the first S&W book. I used a beautiful toile type fabric with botanical drawings of herbs.

Twin sized "Stars and Shuttles" The very first Stack-n-Whack I ever created. Boy was I addicted!

A colorful Easter picture from a few years ago.

This was a gift to a teacher who's class mascot was a dolphin. Lots of applique.

"Forever Spring" was a Jan Wildman pattern. When I ran out of light green background fabric, I came up with the oval of pink background. I love when "mistakes" make the difference between a regular quilt and a fabulous quilt.

This was the last church raffle quilt in a series of seven that I was the "quilt mom". The "birds in the air" pattern is great for a group quilt when all the block sizes aren't exactly the same size. Its easy to cut them down to a common size.

I also made 3 raffle quilts for the Kindergarten classes each year. The kids drew their face on muslin and I sewed them all up. The border and sash fabric matched the class theme for the year ("kinder-bunnies", "kinder-bees", "kinder-owls", etc)

My first T-shirt quilt was made for my sister after the untimely passing of her husband. These were his favorite t-shirts, and there is actually a picture on the back of this quilt with him wearing one of these t-shirts.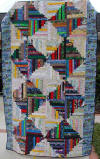 While the aftermath of Hurricane Katrina was blaring over the radio for weeks, I felt called to keep my hands busy, and this was the result. I made two matching Half Square Log Cabin quilts out of my scrap bag...used every scrap I owned! Granted, most of my scraps were strips, which made it easy. Also, since I lacked enough light fabrics, I found that some of the medium value prints could be used wrong side up for a lighter value. I used my serger, which makes the quilts stronger, I think. These twin quilts were hand delivered to a Catholic religious retirement home in Biloxi, Mississippi.

This is my first try at a rag doll using the pattern here. My sewing class of 9-year-olds will be making these to send overseas.

This Thousand Pyramid twin-sized quilt was for my 12-year-old. He chose the pattern (I was hoping for something FAR easier, but I can't resist that sweet face!). I used Sharyn Craig's method for sewing the triangles together and it really helped. I designed it with EQ5 and used the print-out to sew the rows together properly.

This banner was made for our Women's "Christ Renews Our Community" weekend at my church, St. Mary Magdalen Catholic Church in Altamonte Springs. My hope is that they use the banner for both men's and women's weekends each year. The cross design was inspired by one of our stained glass windows, and the various colors of people signify the various mini-communities that come together this weekend to form one new community.

(miniature quilt) I dreamt this idea one night, and sketched it out as soon as I woke up. I have only dreamt one other quilt design (the ragged hearts that is this page's background), so I felt like I really needed to make it up ASAP. Turned out to be a Christmas gift for Millie, my secret pal that year.

The name of this lap-sized quilt is "The Stack & Whack Queen", because it is the culmination of at least 11 other Stack & Whack quilts. I used 5 different sizes of the same kaleidoscope block, and again, designed it in EQ5 before cutting a single piece of fabric. The lime green background means this quilt doesn't need batteries!
This quilt is for sale in my Etsy store.

"Our Farm" This was a little miniature quilt I made for my SIL, Chris. She accompanied me to a quilt show in Ft. Myers, and picked this kit out from Grannie Suzzanie's booth. Of course I couldn't leave well enough alone, I had to double the number of blocks and make a vertical piece instead of the horizontal one. I think all that was left of the orange farm border fabric was a 1" x 4" piece !!

This KING sized quilt was made for my brother. All batiks, which was alot of fun to pick out and sew up. The pattern is "Yikes", from Maple Island Quilts. I have lots of scraps left over from this one, and I just love using them for other projects, they go together so well. I especially appreciated adding to the piano key border with leftover scraps from each block. So when the blocks were pieced, so was the border! I machine quilted each block separately using a Hari Walner design, so I drew the pattern 36 times on wash-away stabilizer and pinned each one to a separate quilt block.

A picture of all six of us in Charleston, November 2006

I made this signature quilt for my father's 80th birthday. The flowers & leaves are raw-edged appliqued.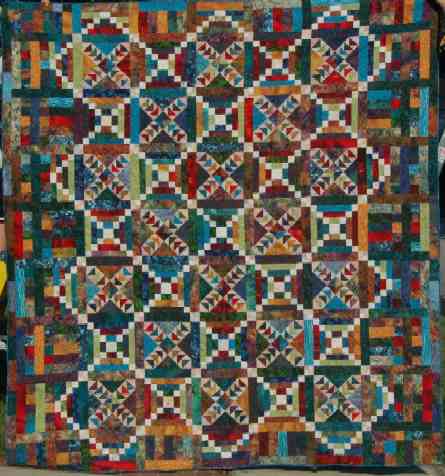 My sister, Renata, asked for a king sized quilt for their bed. We choose "Wild Geese" from Glad Creations and she chose colors based on a small glass vase she liked. I really loved the planned scrappy way it came out, and the pattern was so well written. (104" x 98")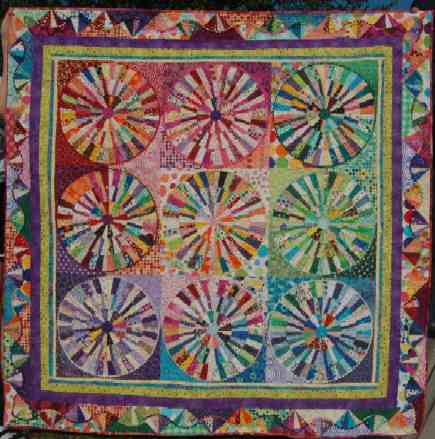 Polka Dotted Happiness: ( 72" x 72")When I saw this quilt on the cover of Quilters Newsletter Magazine, I knew I had to make it. Its called "Everyday Best" from the book Quilts with a Spin. I changed the border and added rick rack everywhere. Every bit of fabric I used is polka-dotted, and the quilt makes me happy, hence the name.
This Quilt is for sale in my Etsy Store.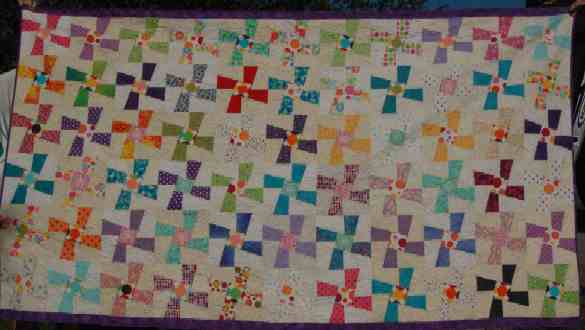 Julia's Quilt (110" x 70") My daughter turned 12 in April, and that means she got a new quilt for her bed. She wanted Polka Dotted Happiness, but I convinced her that a big twin sized quilt would work better. So I used my box of polka dots for this quilt. Amazingly enough, I don't think the pile of polka dots got any smaller. Hmm. The pattern is "Twisted Sister" from Ami Simms. I made a matching valance too.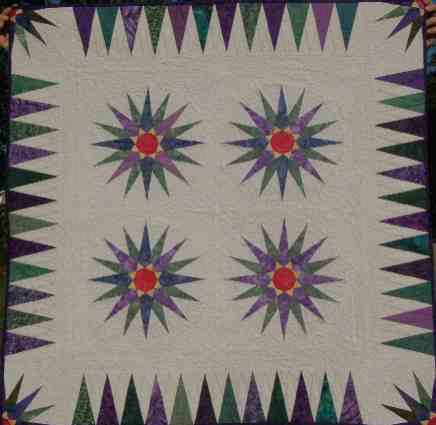 Mariner's Compass (40" x 40") had been sitting patiently in my closet for years while I figured out how to quilt it. Now that my quilting machine is fixed, I figured the time was right. I used Cindy Blackberg's fabric stamps to make the compasses. It was a great hand piecing project...I miss working on it!
This Quilt is for sale in my Etsy Store

Fractured Windows (22" x 22") was a quick little number I made up based on an article in a recent American Patchwork and Quilting. It is all fused with a bit of decorative stitching too.


Tati's Quilt (70" x 70") started out as the result of a guild class with Sharyn Craig years ago where we traded strips of fabric to get lots of star colors. Tati (Stefan's cousin) liked it, so I added a couple borders before giving it to her. The border was made with skinny wedges left over from Julia's Twisted Sister quilt, plus a bunch of "strings" from my scrap bag.

Hidden Stars: lots of blue scraps leftover from Alex's "Thousand Pyramids" quilt.

Raggedy Strings: (23" x 28") just a little quilt with 5" blocks, but its an oh-so-much fun way to use up strings.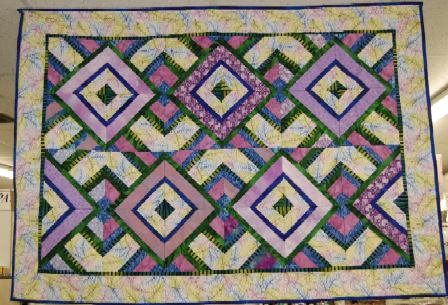 Hidden Wells, the Foldy Stuff way: (38" x 53") using a Foldy Stuff pattern as the foundation, this is a great way to use up scraps or make it more planned, color-wise.

God's Blessings: this was a project for the Orlando Diocese Council of Catholic Women. Since the 2009 convention theme was "Patchwork of God's Blessings", it seemed appropriate to make a quilt listing our blessings. We asked the 12 moderating priests, plus Bishop Wenski, to tell us God's blessings to them. I then printed the answers on fabric, cut them into hearts, and fused them onto a rail-fence background. My handmade polymer clay buttons were a last minute addition that were fun to make.

Stefan's Log Cabin: I made this quilt in one weekend. Well, OK, it was a quilt retreat weekend, so all I did was sew and eat. Does it get any better? Stefan received the quilt for his birthday in 2009

Nina's Signature Quilt: Each patch contains a message of love and support for my friend Nina. The back is a wonderful flannel with a pocket for her feet.

Zig-Zags a-Plenty (50"x60"): an ingenious method of making zig-zags with no triangles. Its all made with rectangles, so its easy-peasy. One of my many StashBuster ideas.

Caribbean Fishies (44"x44"): This little original design will soon be a pattern that can be purchased at local quilt shops. As you work on this quilt, you will learn quick cutting and sewing techniques, pressing tips, various options for half-square triangles, foundation piecing (just a little bit!), snowball corners, color savvy, setting blocks on point, and my Easy Shmeasy Mitered Border Technique.
***Errata: If you've purchased this pattern from me, download the updated page 12.

Urban Flowers (54"x72"): using a new Atkinson pattern, I used a collection of modern prints and a white-on-white background.

Making Lemonade from Lemons (53"x45"): an original pattern. I was using my old workhouse of a Bernina 930 which didn't have needle up/down or a thread cutter, so I needed a leader/ender project. I cut up the leftover scraps from Urban Flowers (see above) and a floral nickel pack. I love the free-motion flowers, I hope you can see them in the close-up.
This quilt is available in my Etsy Store

Liberty for All (68"x68"): lots of half-square triangles. A Edyta Sitar pattern.

Lime Green Thing (88"x77"): love the way the light vibrates from the center.

Red-White-Blue Tessellations (50"x40"): a Stashbuster quilt

Off the Edge ((50"x56"): a quilt made from selvages. The border was designed later, when I realized the log cabin center needed a little something more.


These two 16" pillows were made with new Florida Gator t-shirts. I embroidered the names of the recipients and the year they graduated. I can make one for YOUR favorite graduate!

TableRunner from Atkinson Designs

T-shirt quilt (80" x 90") for my son

Calypso Sunrise (56" x 60")- A stashbuster quilt using the Calypso quilt pattern

Christmas Nickels - I used two packs of flannel 5" squares plus some soft creamy flannel for this Stashbuster

Fantasy Flowers - using Robbi Joy Eklow's Accu-Quilt die cuts, this was a breeze to make. This quilt is available in my Etsy Store

Floralicity: A friend gave me a stack of floral fabrics she didn't need (!) and I made 3 different quilts. This is one of them. A simple yet graphic StashBuster quilt using half square triangles.

OHO Quilt: this mod pattern is from the Zen line. You have to tell those darn curves who's boss. I used a FMQ design from Angela Walter's FMQ book for the center sections.

Pumpkin Quilt: it all started with a fun pack of Halloween nickels. I made half-square triangles with yellows, but still wanted something else. An internet search led me to a panel of autumn gallery. Perfect! And I got to FM quilt it with my fun little pumpkins. This quilt is available in my Etsy Store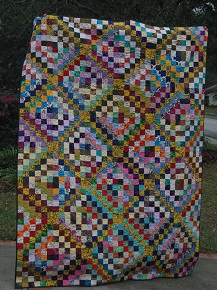 Scrappy Trip-around-the-world: this is a GREAT use for those leftover 2.5" strips, or the Strip Exchange you did at your guild meeting. A fun class to teach as well. I credit Bonnie Hunter for this one.

Shadowbox: used a pattern by the same name. I've seen so many Shadowbox quilts done in different colors, its a very fun, fast pattern. This quilt is available in my Etsy Store

Spiral Geese: an original design, but I used Jackie Robinson's One-Seam Geese to make this StashBuster quilt.

Swoon-alicious: using the very popular Swoon pattern, I also used Brenda Henning's 'Triangulations' CD to help paper piece the many flying geese and half-square triangles.

Twisty Treat: what do you do with a pile of beautiful fat quarters that don't want to be chopped into little pieces? You cut them into four squares and use Sharyn Craig's 'Twist-n-Turn' method for making blocks.

Yin Yang on the Gulf: using another popular pattern, Yin Yang, I used fabrics that reminded me of my last vaca on the Gulf. The border is not from the pattern, I was inspired by another quilt for that one.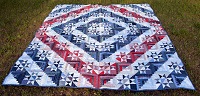 Happily Ever After: an original pattern using a Log Cabin block and a Split Star block. I used upcycled shirts in plaids and stripes. This queen-sized quilt is going on the bed of our new travel trailer, hence the Americana themed colors.
Here are a few more upcycled shirt quilts: Slanted Stars, Scrappy Mountains, Economy Blocks, and Ritzy Stars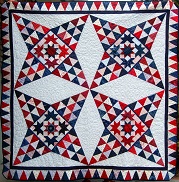 Allegiance - in 2007, we took the kids out of middle school for a 6-month road trip. We camped in a little pop-up trailer, home-schooled the kids, and made a bunch of wonderful memories. I looked for quilt shops in every town - natch - and bought at least one fat quarter of red, white or blue. This hand-pieced quilt is the result of that trip. What did I learn? Pre-wash all red fabrics. Sigh. Anyway, I used metal templates from Ardco which they kindly created just for me. I sent them a sketch and they took it from there. I carried my sandpaper board with me, which allowed me to trace out the sewing line and the cutting line with the metal templates.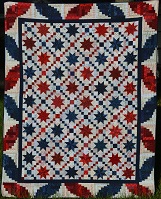 Traveling Stars: the Lemoyne stars were hand pieced over several summer road trips, cut from Ardco templates, and then hand pieced to the alternating blocks. All the fabrics were leftover from Allegiance (see above). The curved log cabin border blocks were made using this ruler.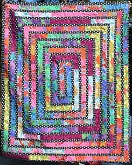 Amazing Kaffe - a very fun pattern found here. I figured out the length of all the pieces prior to cutting (I used a formula in Excel). I enjoyed it so much I made a second one: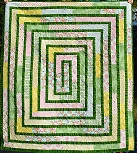 Amazing Pastels - a great stashbuster, since the wider strips are 2.5" wide. Pattern found here.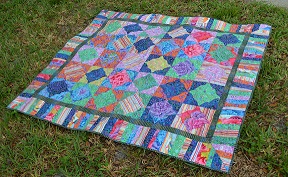 Wavy Kaffe Tiles: was made using this ruler and this pattern. Also, a blog post.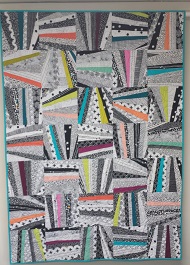 a fun way to use up leftovers from the Peacock, below. Here's the pattern for 'A Bit Askew"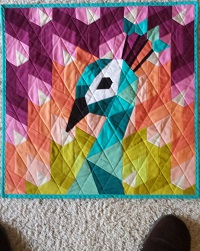 this is a Violet Craft pattern, The Peacock. Although it is English Paper Piecing, its not for beginners. I've been teaching this class at The Sewing Studio, so sign up!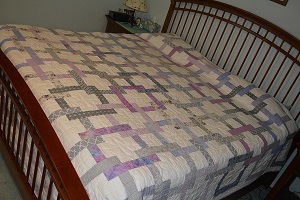 Pretzel Twist, pattern here. Simple sewing, but you have to be organized or use a design want to get each pretzel to work out.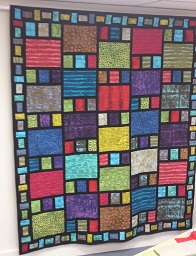 Craftsman, a fun pattern found here. I was excited to use a bunch of Marcia Derse fabrics.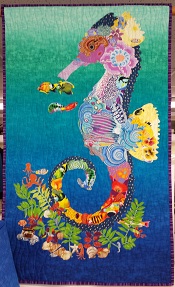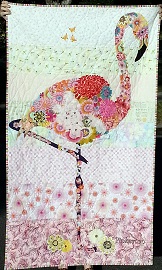 Seahorsy (Elba) and Pinkerton are collages from Laura Heine's collection of collage patterns. I love them so much!!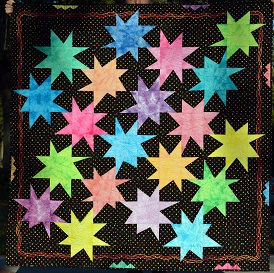 Maggies Stars - I saw this pattern on Pinterest and figured out how to make it. My friend Maggie K. helped me find the background fabric, hence the name. I hand-dyed these fabrics eons ago.
Church Decorations: I belong to a large Catholic Church in Central Florida, and they ask me from time to time to make banners or other decorations for big events. So far, I've made Palm Sunday banners, Pentecost banners, Easter banners and them Easter Drapings and other drapings for the large center mosaic. The banners are made with a base of thick upholstery fabric, then the designs are fused on. All the banners are about 15 feet high and about 32 inches wide. I used to use a teacher's projector to convert a small design to a 15 foot design, but for the Easter butterflies I used our new digital projector and just kept moving the projector table back so the design got bigger and bigger as needed. The butterflies are a solid piece of black or grey, and then all the yellow/orange pieces are traced onto paper-backed fusible web, fused to fabric, cut on the line and applied to the front of the black/grey fabric. It wasn't easy finding good greys, so the top two butterflies are Kona black.

Lenten Drapings for 2013

Lenten and Palm Sunday Drapings for 2013 (we just took down the Palm Sunday banners)

Easter Banners for 2013 - Original Design

Easter Drapings (2004-2012) and Palm Sunday banners

Palm Sunday Drapings and Palm Sunday Banners (pre-2013) - Original Design

Pentecost Banners - Original Design - but inspired by stained glass windows in our sanctuary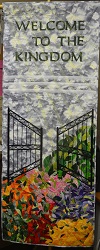 Funeral Banner - Original Design - There are 3 lines of velcro on it to receive felt letters of the name of the deceased. We bring this banner out before a Funeral Mass to hang on a stand in the lobby of the sanctuary. Most everything is fused on, then quilted with a walking foot in a cross-hatched diamond pattern. Thin cotton batting (Warm & Natural) allows the banner to hang properly. On the 2nd photo, you may notice rays of yellow sun, or maybe God's warming touch, emanating from the top left. I used yellow tulle, folded down the 'rays' and sewn down with a walking foot.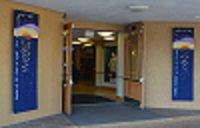 Advent Outdoor Banners - most everything is fused onto a single layer of cotton fabric. Original Design. The words are from an ancient song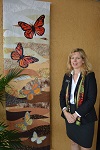 Easter Outdoor Banners - one of two banners installed outside our front doors. They were created to duplicate the Easter Banners inside the Sanctuary (see above)