What is a Roomy Board?
The Roomy Board is a topper for your ironing board that turns it into an excellent tool for quilters and home dec sewers.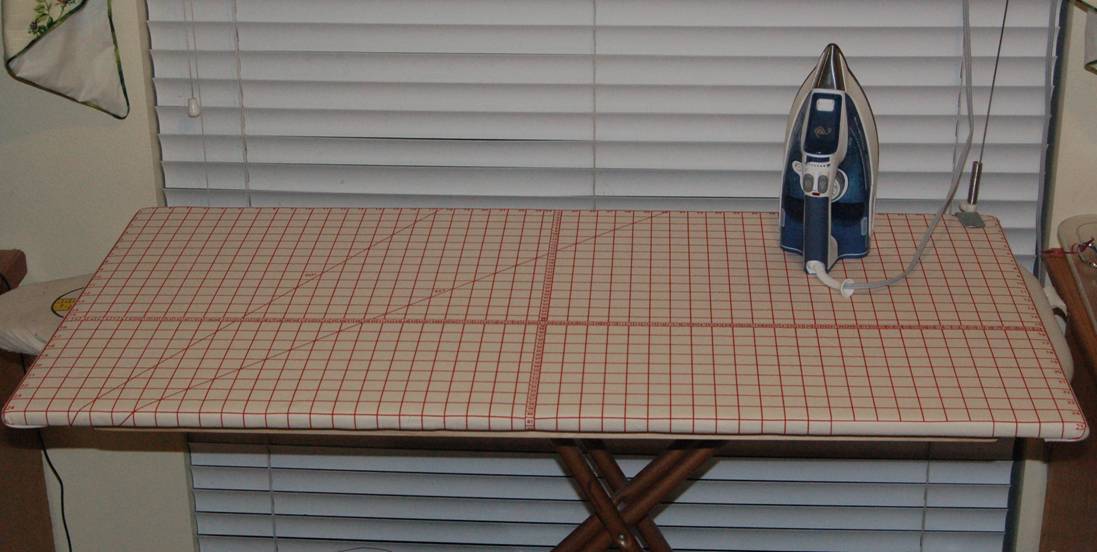 The squared off edges of the Roomy Board makes it ideal for ironing yardage, freshly pieced blocks, and much more. The large workspace simplifies composing and ironing multiple blocks without having to run back and forth to a table. And, the firmer surface helps keep pieces from stretching when pressed. And everyone can use a little more table space.
The Construction
A Roomy Board is simplicity itself. A sturdy piece of plywood covered with batting and fabric. On the bottom, two ribs run parallel to the edges. The ribs keep the board stiff and hug the sides of the ironing board. The top is 48" long, and the width is 22" or 24" depending on the width of your ironing board.
The Fabric
I have not added any sprays to the fabric on the Roomy Board. This is done to keep anything from migrating into the fabrics that you are pressing on the board. The fabrics themselves are a basic Cotton Duck, Heavy Duty Gridded fabric, and Silver ironing board fabric that won't shrink.
Customizing the Roomy Board
The Roomy Board is customized to meet the width of your ironing board. When ordering, please specify the maximum width of your ironing board. If in the future you get a new ironing board that is wider than your current board, the ribs will likely need to be moved out. This can be done by undoing the screws in the ribs, relocating the ribs, and putting the screws back in.
The Roomy Board also comes with several fabric options – Plain Cotton Duck, Gridded, and Silver (Ironing Board Fabric).
If you ever want a fresh look for your roomy board, I recommend a cotton duck fabric that you can staple to the bottom of the board right over this one and it will look like new again.
Why not just make my own Roomy Board?
No reason. If you have some basic tools, it is not that hard. But will you ever do it? After adding up all the parts necessary to make one, you might save a little money but think of the quilting you could have done with that time!
How much does it cost?
Cotton Duck - $70 Gridded - $90 Silver - $80
Do your customers like their Roomy Board?
Please tell Stefan that I really enjoy working with my new cover for my ironing board. He did a great job of cutting, sanding and covering the wood. It fits my ironing board beautifully. The added square block cover is really great for lining up the material to be ironed. Please convey my thanks for the find job he did on my board. It will serve me well for many, many years, I love it! – DM, Oviedo
Hi Stefan, I have been using my board and really enjoy the large size. Thank you! - LM, Winter Springs
PS: My Roomy Board is great. I keep forgetting to tell you how awesome it is! - Bev, Orlando
Ordering
Click Here to Order:

Stefan Ibarguen - stefan@cfl.rr.com